Our approach to the Fine Art wedding photos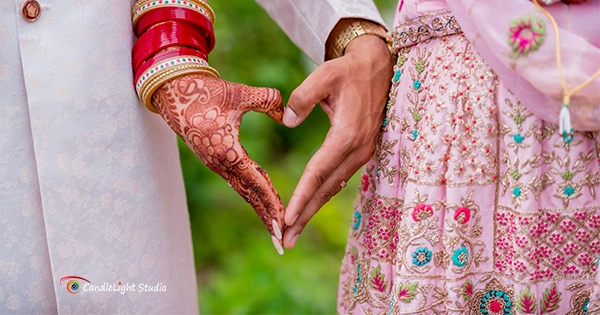 CandleLight Studio has been capturing the sweetest moments, recording new life chapters since 2000. We will make your wedding day last forever. Everything you need to know about wedding photography: learn more about the art of capturing the sweetest moments of your special day.
Build your Priceless moments and inspiring memories with CandleLight Studio.
The wedding photographs you share with your partner, your family, and friends will remain far longer than any flowers or cake you may purchase. It should come as no surprise that brides and grooms spend a notable amount of time planning how they want to create memories that will last a lifetime on their wedding day. To do this, you'll need an Indian Desi Photographer who is familiar with your particular style and creativity, as well as one who is not going to break the bank in the process.
It is at this point that CandleLight Studio Introduces. Our team of wedding experts is constantly designated for your event. We will assist you in telling your most romantic tale in the manner you want it to be cherished. You can count on us to be there for you every step of the process, and we will be there to provide expert advice on choosing the best style for your wedding photographs.
However, before you go, have a look at these stunning wedding styles for your big day.
Depending on your preferences, you may choose from a variety of various wedding photography styles for your special day. It doesn't matter if you desire a lovely romantic feel or an urban and edgy style; your photographer can bring your idea to life. Here are some of the most popular types of wedding photography to get you started.
Classic
Classic pictures, such as those seen in your grandparents' or parents' wedding albums, have stood the test of time for generations. They're eye-catching, beautiful, and a little formal. As photographers, we're always looking for exciting shooting situations and thinking about what we might make out of them. It is CandleLight Studio's duty to transform the commonplace into the extraordinary.
Art of the highest caliber
Fine art wedding photography is comparable to conventional wedding photography, but it has a little spin on the subject. It is well-known for being light, bright, and airy, making it the ideal setting for your romantic celebration. Using an artistic approach, the main aim is to convey a narrative to the viewer visually. When it comes to creating a soft, romantic wedding book, our services being professionals in fine art, are the best place to start.
Photojournalistic
Instead of staged photography, photojournalistic photography captures candid moments or random images of people, décor, and activity rather than planned photographs. (Consider the following scenarios: you and your partner laughing during the first dance, or your closest buddy wiping away a tear during a toast)
According to photographers at CandleLight Studio, "we will choose perspectives and backdrops that enhance the overall appearance of the subject matter." Our next attempt is to capture something genuine in the couple's expression.
Dark and ominous
Are you looking for that little bit extra? We like a dark and gloomy aesthetic since it's comparable to our way of life—but with a twist of refinement. Because of the editing technique used, this photographic aesthetic seems to have been lifted directly from Pinterest or Instagram. Suppose you're planning a bohemian, eccentric, or gloomy wedding. In that case, this design will be the ideal complement to the overall theme of your event.
Editorial
Consider this look to be similar to your magazine photoshoot. Editorial photographers are the most technically advanced members of the wedding photography community. You should use this design if you want your wedding book to appear as it came right out of a magazine.
Let's get started with CandleLight Studio
"Capturing natural and heartfelt moments is the most gratifying aspect of being a wedding photographer. Giving couples stunning pictures as a lasting memory of their day is very special."
Customer Service
CandleLight Studio has always kept one basic idea from humble beginnings. CandleLight Studio is always enthusiastic about providing a combination of skills and experience to couples the highest quality picture and videography services available at affordable costs.
We also want our skilled creative photographers to encourage innovation in their local communities. We do this by helping couples convey what their marriage symbolizes. Our enthusiasm ensures that individuals always enjoy the beautiful moments of marriage. Believe in us as the old friend on this important part of your special day.
OUR NATURE OPERATION
Our photography for weddings is natural and contemporary. It aims to tell the day's story, from the early preparation to the celebration of the night. This quiet and discreet technique enhances notable moments captured throughout the day to portray real emotion and importance.
Our prices and packages typically include full-day coverage to ensure that every part of the day is covered – with a few entertaining photos!
Build your Priceless moments and inspiring memories with CandleLight Studio.